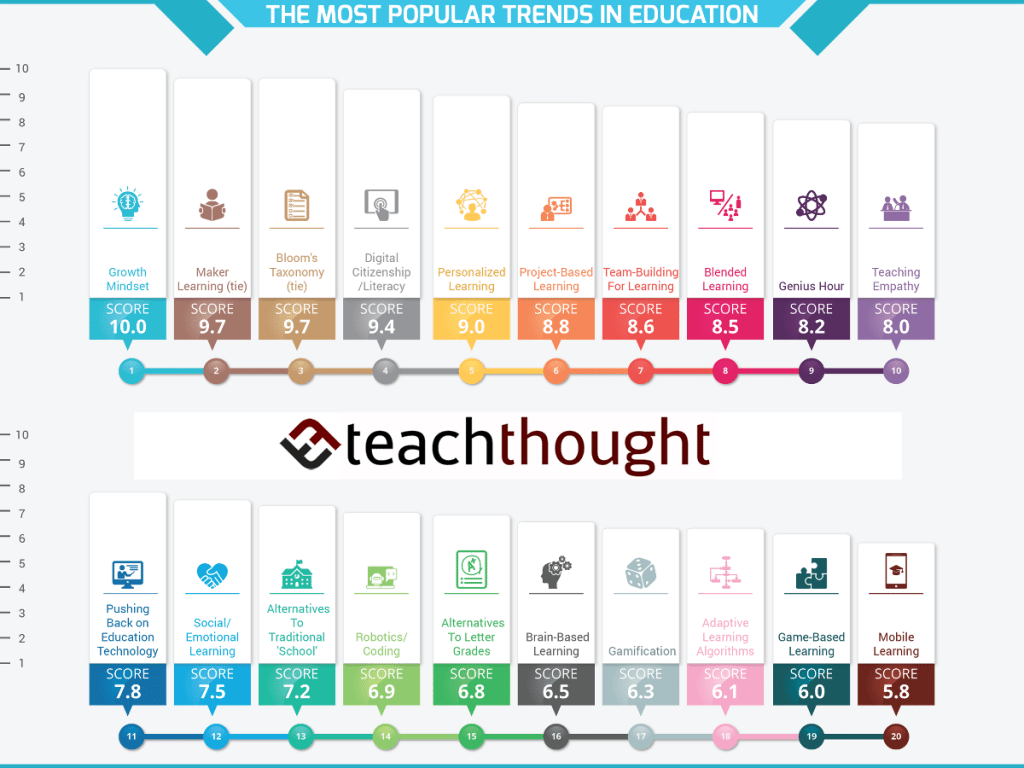 Following are the Most Popular Trends in Education from TeachThought. In reviewing these, I marveled at how many of these trends speak to and are deeply aligned with our BCS Vision, Mission, Values and Beliefs and how we approach learning at BCS.  In fact, noted after each, is a previous post referenced from my blog.  Which trends most resonate with you at a member of the BCS community?
Maker Learning (Can Our Students Change the World from Our Classrooms?)
Bloom's Taxonomy (Questioning: Powerful for Inquiry, Discovery & Curiosity-for learning!)
Digital Citizenship/Literacy (Are You Future Proof?)
Personalized Learning (Individualization, Differentiation & Personalized Learning – A comparison)
Project-Based Learning (see links for #2)
Team-Building for Learning (Give These Collaborative Team Roles a Try!)
Blended Learning (Personalized Learning vs. Personal Learning)
Genius Hour (see links for #5 and #8)
Teaching Empathy (Now More than Ever! At BCS We Value Each Other through Empathy)
Pushing Back on Education Technology (Is Your Technology Integration Rigorous and Relevant Enough?)
Social/Emotional Learning (How You Feeling?)
Alternatives to Traditional 'School' (see links for #2, #5, #6, #8 and #9)
Robotics/Coding (The Hour of Code is coming)
Alternatives to Letter Grades (Grading – How to Make it Less of a Herculean Effort)
Brain-Based Learning (Empathy Equals?)
Gamification (Can Gamers Make the World a Better Place?)
Adaptive Learning Algorithms (see link for #5)
Game-Based Learning ("Can Schools Have a Spirit of Entertainment & Play as Part of Their Learning?")
Mobile Learning (see link for #11)
I also came across this video of the "Top 20 Trends in 2017" where futurist and keynote speaker Jeremy Gutsche shares future trends for the year ahead in this 6-minutes.  Have a look at these business-related trends.  In thinking about them, maybe we ought to integrate more cuisine, travel, and wellness into our curriculum. 🙂
The Top 20 Trends are noted below the video for your review as well.
Which ones could be implemented in a school?
Retail Kinship
Big Data Concierge
Quantified Self-Care
Culinary Laboratory
Extreme Wellness
Prosumer Tourism
Boomer Peer-to-Peer
Detoxifying Libation
Preferential Pop-up
Condensed Broadcast
Designer Customization
Suspended Adulthood
Shoppable Media
Instagrammable Fitness
Branded Education
Sponsorship Gaming
Communal Living
Artisanal Education
Analog Divergence
Embedded Virtual Reality