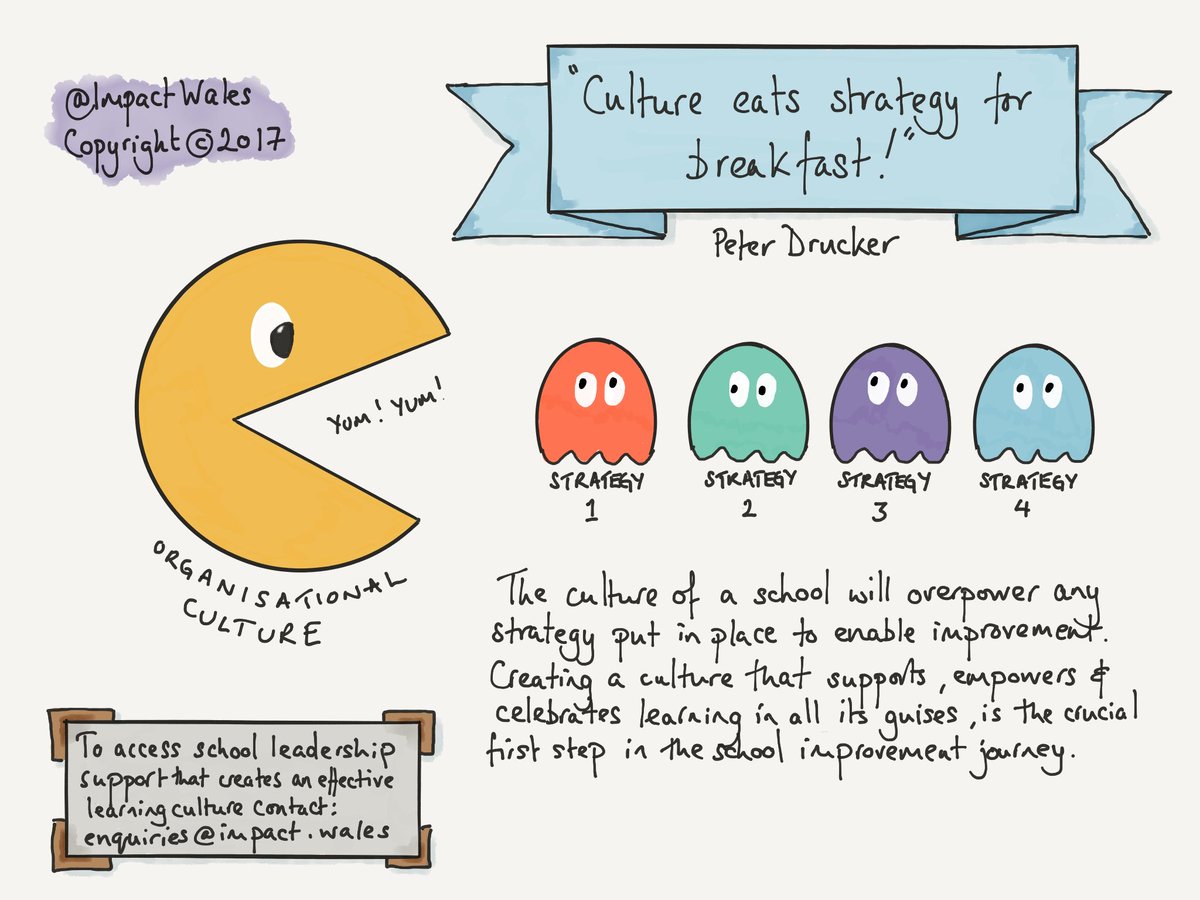 Whether outlined in a book, an article, a slide presentation or oft-quoted, it is clear that "culture eats strategy for lunch" or as Peter Drucker first coined, "Culture Eats Strategy for Breakfast." In essence, the phrase simply means, no matter how much we focus on key, research-based strategies, it is the culture of an organization, business, school, that promotes its success.  So, how do we understand culture?  I share below, with my take on each, the "forces" that shape culture from Harvard's Project Zero.  The project "is an intellectual wellspring, nourishing inquiry into the complexity of human potentials – intelligence, understanding, thinking, creativity, cross-disciplinary and cross-cultural thinking, ethics – and exploring sustainable ways to support them across multiple and diverse contexts."  Out of their work, research and learning, most notably the principle investigator Ron Ritchhart, come their 8 Forces that Shape Group Culture.  I list them below and note a few of my own connections to my learning and our learning over the years as educators within our BCS culture:
Expectations:

 

Recognizing How Our Beliefs Shape Our Behavior (As Mahatma Gandhi stated so powerfully, "Your beliefs become your thoughts. Your thoughts become your words. Your words become your actions. Your actions become your habits. Your habits become your values. Your values become your destiny.")
Language: Appreciating Its Subtle Yet Profound Power (check out his post about the power of using the word Learning vs. Work in a Culture of Thinking)
Time: Learning to Be Its Master Rather than Its Victim (teacher autonomy vs. "married" to the schedule, scope/sequence of curriculum, etc.)
Modeling: Seeing Ourselves through Our Students' Eyes (invoke your habits of empathy)
Opportunities: Crafting the Vehicles for Learning (check out some former posts below of mine focused on creating peak learning moments and experiences)
Routines: Supporting and Scaffolding Learning and Thinking (making thinking visible and It's No Longer the Three R's)
Interactions: Forging Relationships that Empower Learners (it's all about relationships)
Environment: Using Space to Support Learning and Thinking (5D-CEC1/Classroom Environment & Culture language: "students use resources and the arrangement of the room for learning")
Check out this brief video below tauting the importance of companies shifting from a Chief Strategist to a Chief Culture Officer.  Zappos and Google are the only two companies known to have a Chief Culture Office and they are two "wildly successful" companies. In fact, I shared about the Zappos culture, headed by Tony Hsieh, in a past post Happiness Matters (just as a reminder) and his company's efforts to build a culture of inspiration.  How about school districts having a Chief Culture Office? Interesting…
Here is another video (5 min 39 sec) focusing on Drucker's quote and giving examples of this concept at work: culture eats strategy for breakfast.  Culture is not something you tell people to do, it's what people actually do!  Interesting, huh?